Handel conquers America
viernes, 2 de diciembre de 2011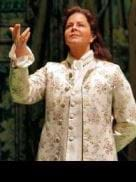 San Francisco, viernes, 11 de noviembre de 2011.
San Francisco Opera House. George Frederick Handel, Serse. Nicholas Hytner, original production. Michael Welling, stage director. David Fielding, production designer. Paul Pyant, lighting designer. Susan Graham (Serse), David Daniels (Arsamane), Wayne Tigges (Ariodate), Lisette Oropesa (Romilda), Heidi Stober (Atalanta), Sonia Prina (Amastre), Michael Sumuel (Elviro). San Francisco Opera and Chorus. Ian Robertson, chorus master. Patrick Summers, conductor
0,0002648
Is Baroque opera finally out of the ghetto of early music specialists? The proliferation of Handel's works in the major American opera houses (the Metropolitan, Lyric Opera of Chicago, Houston Grand Opera, and San Francisco) suggest that the United States is gradually following a trend by now established overseas. Step by step, Baroque opera is becoming liberated from esoteric festivals targeted at small groups of devotees, and performed by ensembles of specialists entertained by first-rank performers. Rather it is entering the repertory of major venues, attended by thousands of spectators. Of course, this may appear an oversimplification. Especially on the western side of the Atlantic, where the box office still rules over the boldness of artistic directors lacking state subsidies, opera houses still regard Baroque opera as a risky venture. It might indeed add flair to a season, but it also might discourage regulars brought up on Wagner, Verdi, and Puccini, resulting in lower ticket revenue. Not surprisingly, the only Baroque operas that the main American companies have programmed so far are by a single composer -Handel- whose operas feature a musical language already familiar through his oratorios.

Behind this cautious approach to Baroque works, however, lies a changing perspective about Handel's operas within the canon. The professionalization and increasing quality of early music performers over the decades have contributed to the creation of a star-system that affected profoundly the ways in which Baroque operas (and Baroque music in general) are heard today, as well as the role they play in contemporary operatic culture. While some twenty-five years ago, Peter Sellar's choice to stage Giulio Cesare was considered as extravagant as his provocative staging, new productions today of Alcina, Rinaldo, or Rodelinda come less of a surprise. House orchestras play these works adopting stylistic features and techniques of early music ensembles (moderate vibrato, more pronounced articulation of phrasing, nuanced dynamics etc.), while welcoming early music specialists on the harpsichord or theorbo to fill out the continuo section. Singers are expected to perform arias in their entirety, and to embellish repeated sections (the so-called da capo). Directors are allowed more space for invention and re-interpretation than in 19th-century blockbuster operas in order to make the dramaturgy of baroque works, based on the regular alternation of recitatives and arias, more palatable to modern audiences.
Michael Sumuel (Elviro), David Daniels (Arsamenes), Lisette Oropesa (Romilda), Susan Graham (Xerxes) and Ensemble
© 2011 by Cory Weaver
The San Francisco Opera production of Handel's Serse proves that this formula can be utterly successful. Under Patrick Summer's baton, the house orchestra sounded stylish and energetic. Nicholas Hytner's entertaining production, first seen at the English National Opera over twenty years ago and revived with Ann Murray in the title role, sets the plot of Handel's opera in London's Vauxhall Garden. The amenities of park transform the vicissitude of the decades-old libretto (an arrangement of another arrangement of Niccolò Minato's Serse, originally written for Francesco Cavalli in 1654) into the ironic counterpart of English aristocracy of Handel's own time. The whimsical portrayal of the protagonist, the Persian king Xerxes, and the dalliances between the other characters of the opera become the fictional abstraction of the ephemeral life style and love affairs of high society at that time. In a sense, little has changed since then. Indeed, this production speaks more directly to the audience than many other radical stagings in contemporary costumes. Even eighteenth-century fascination for the Middle East comes out as the prelude of present-day globalization. Revival director Michael Welling deserves full credit not only for having preserved the original flair of the production, but also to have scrupulously led the San Francisco cast in their construction of compelling characters.
Michael Sumuel (Elviro) and Heidi Stober (Atalanta)
© 2011 by Cory Weaver
Susan Graham takes the prize for her interpretation of Xerxes. Her dazzling vocal performance ravished the audience since her rendition of the first, celebrated aria of the opera, 'Ombra mai fu'. Throughout the performance, Graham's creamy timbre, impeccable taste and skillful acting were ideal to portray the royal nature of the role. But she also managed to season her rendition with a touch of venomous irony that perfectly matched the anti-heroic status of Handel's character. The two sopranos in the roles of two sisters fighting over the same lover also competed in bravura. Lisette Oropesa, at her debut at the San Francisco Opera, well deserved her outstanding success as Romilda, just as Heidi Stober (Atalanta) was welcomed back after her first appearance last year. Both sang impeccably, boldly embellishing their many arias while fully acting out their roles as consummate artists. David Daniels proved once more that Handel's music has no secret for him and showed total self-confidence in the role of Arsamane, Xerxe's brother and the bone of contention between Romilda and Atalanta. Perhaps his self-confidence was even too much, since I felt he contended himself with singing his part beautifully, without really delving into the character. Sonia Prina was an impressive Amastre, whose dark voice perfectly suited the ambiguity of a female role pretending to be a man during the course of the whole opera. The audience burst into hearty applause even before she could finish her bravura aria in the first act. The two basses, Wayne Tigges (Ariodate) and Michael Sumuel (Elviro), completed the cast convincingly. If Handel's works are to enjoy such good performances in the future, their position in the canon of American opera houses is secured for years to come.