High Dives and Belly-Flops
martes, 5 de junio de 2012
0,0002764
After nearly six months without a new production, two arrived at once at the Royal Opera House. Strictly speaking, neither of these shows were exactly premieres (both having been staged previously at continental festivals), but they felt like a gust of spring air after the bleak mid-winter of solid revivals and high-profile cancellations that have characterised the current season. In his speech marking the presentation of the 2012-2013 schedule, Kaspar Holten expressed his desire to continue increasing the number of new productions at the house, and that can only be warmly welcomed by those who have been plagued by a recurrent sense of déjà vu in the preceding months.

Jossi Wieler and Sergio Morabito's staging of Rusalka is hardly new -it was premiered in 2008 at the Salzburg Festival- yet anyone who followed the press coverage from the opening night might have believed otherwise. The (apparently mild) booing it received is certainly unusual at Covent Garden, yet disappointed spectators can hardly claim to have been misled, given the talk of gritty contemporary resonances promised in the promotional material. The directors' production pursues a classic psychoanalytic approach to Rusalka, in which the mermaid's aqueous world represents the subconscious -and in particular, sexuality. This mental underworld is represented in social terms in the form of a bordello, where the water nymphs are fellow prostitutes and the water goblin acts as a ghoulish pater familias, threatening ostracisation should Rusalka dare to enter the human world.
Having set up this provocative scenario, however, the directors swiftly run out of ideas in a conventional central act and repeatedly resort to crude comic touches which suggest a lack of confidence in their high-minded approach. The cat which strips Rusalka of her scales could be suggestive of animalism tamed, yet its pantomime costume seems designed to mock such seriousness. Likewise, the cheeky wave with which Rusalka greeted the audience on her first human outing -reminiscent of a television makeover show- flatly contradicted the sense of trepidation and excitement which Dvorak invests in the music. Given the rarity with which Covent Garden presents conceptual productions, this felt like a wasted opportunity: merely providing fuel for those who believe these shows are an insult to the composer's intentions.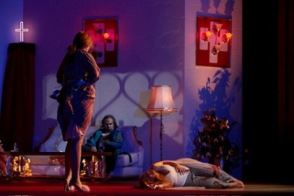 © 2011 by A. T. Schaefer (Salzburg performance)

Musically, things were much more satisfying. Camilla Nylund gave a superb house debut as the mermaid, her gleaming soprano absolutely secure from top to bottom and with a cool focus reminiscent of Mattila. Although her singing would benefit from greater tonal contrast, her crisp diction and voluptuous phrasing offered vivid characterisation and made one anxious to hear her Wagner or even Salome. Nearly as impressive was Bryan Hymel in his first major engagement at the house. Like Nylund, his juicy lyric voice (with a heroic edge) soared fearlessly through the Prince's high-lying demands and he acted with compelling ardour. Both principals would benefit from a less monochrome vocal palette but this was exciting, risk-taking singing.

Equally convincing was Petra Lang, who left no piece of scenery unchewed as the Foreign Princess. Her theatrical commitment and lacerating tone have always been her calling card, although her thinning middle register and occasionally strident top made me wonder how many more roles she will tackle in London. Nonetheless, she made a vivid impression in this small role, as did Agnes Zwierko as Jezibaba, nonchalantly dealing with a prop cat which threatened to steal the show. As Vodnik, Alan Held gave fine support and the wood nymphs were stylishly delivered by three Jette Parker young artists.

The icing on the cake was the wonderfully sensuous conducting of Yannik Nézet-Seguin, who continues to make waves across the operatic community. Having heard his dreary Don Giovanni in Salzburg in 2010, my expectations were not high but he fully lived up to his hyperbolic press, with a highly flexible, carefully voiced account of the score which sustained dramatic tension even at some unusually languorous tempi. This was some of the most satisfying conducting to be heard at Covent Garden in a while.
© 2012 by Karl Foster/ROH

Rusalka might have elicited controversy, but at least the critical reaction was mixed -from 5 stars to 1, in the house's canny marketing statement. Such a range of opinion could sadly not be mustered for Miss Fortune, which in critical terms was little less than a disaster. A co-production with the Bregenz festival, this new opera by Judith Weir was advertised as a timely reflection on the vicissitudes of fate and the role of chance and luck in contemporary life, but seems to have suffered its own unhappy turn of the wheel of fortune. On the evening I visited, audience attendance was sparse; at later shows stalls tickets were being sold for as little as £15. The universally negative reviews can't have helped, yet one wonders whether Weir really has the critical status or popular interest to fill the main house at the best of times. It certainly seems inconsistent that the Royal Opera maintains an international casting policy yet appears intent on commissioning only British composers, when there are works by Jake Heggie or Kaija Saariaho which might attract both a starrier cast and a warmer audience reaction.

Based on a Sicilian folktale, Judith Weir's libretto tells the story of a young woman whose family's fortune is destroyed in a financial crash and who subsequently chooses to embrace the uncertainty of life in a series of adventures -taking in a kebab van, a Laundromat and a group of impressively choreographed street dancers. The result, alas, is neither meditative nor dramatically charged but simply aimless: a picaresque sequence of non-events in which the characters utter platitudes about uncertainty and fate which could have been plucked straight from a self-help guide. The profound banality of the libretto sadly handicaps the opera which although brief (barely 90 minutes) feels long and lacks any clear peaks and troughs of dramatic interest. Weir's characteristic ear for sonority and texture are present, as well as some intriguing rhythmic features, but memorable musical ideas are in short supply.

All this was a shame, particularly since the piece was presented with conviction and flair by a talented ensemble. Under Paul Daniel's authoritative baton, Emma Bell gave a committed performance of a tricky role and in these circumstances her mushy diction was positively a blessing. In smaller roles, Noah Stewart and Jacques Imbrailo gave attractive cameos and Andrew Watts' striking counter-tenor worked hard to represent the power of fate; Kathryn Harries and Alan Ewing were equally strong as Miss Fortune's debauched parents. Chen Shi-Zheng's evocative production supplies visual interest and some striking moments (notably a descending helicopter) but there was no escaping the sense of waste which marked the evening as a whole. Lovers of contemporary opera can only hope that George Benjamin's new commission for next year will find a happier outcome than this disappointing misfortune.