From Babylon to Parnassus
viernes, 20 de septiembre de 2013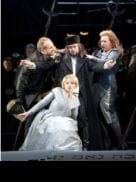 Berlin, domingo, 8 de septiembre de 2013.
Deutsche Oper Berlin. Verdi: Nabucco. Dramma lirico in four parts. Libretto by Temistocle Solera. First performed on 9. March, 1842 at Milan. Keith Warner, director. Tilo Steffens, stage design. Julia Müer, costume design. Jörg Königsdorf, dramaturge. Johan Reuter (Nabucco), Yosep Kang (Ismaele), Vitalij Kowaljow (Zaccaria), Anna Smirnova (Abigaille), Jana Kurucová (Fenena ), Marko Mimica (High priest of Baal), Gideon Poppe (Abdallo), and Hulkar Sabirova (Anna). Chor (William Spaulding, chorus master) and Orchester der Deutschen Oper Berlin. Andrea Battistoni, conductor. Premiered at the Deutsche Oper Berlin on 8. September, 2013
0,0003175
With most of the Wagner celebrations now firmly behind us, the time has come for opera houses around the world to celebrate the 200th birthday of the nineteenth century's other great music-dramatist. Berlin's Deutsche Oper, in addition to resurrecting several recent stagings of perennial Verdi favourites, will be marking the occasion with two new productions, one of Falstaff, the other of Nabucco. The choice of works is significant: Falstaff is Verdi's final opera and, famously, only his second foray into comedy; Nabucco, while not technically Verdi's first opera, is the one that launched his career and is, in some ways, the point from which his personal style can be measured. Over the course of the next several months, we will have the chance to catch glimpses of Verdi at various stages in his career but, most importantly, we will get to hear him at the very beginning and the very end.

It makes sense then that the Deutsche Oper should open their new season with Nabucco. The new production – directed by Keith Warner and conducted by Andrea Battistoni – featured several exceptional vocal performances and a number of visual ideas that were both inspired and effective. However, as is the case with so many contemporary productions, this Nabucco opted neither for the Babylonian setting of the original, nor even for a coherently realised alternative setting that might cast the opera's themes in a different light; instead it presented a sometimes confusing array of imagery appropriated from various parts of history and popular culture in an attempt to find new paths to the emotional centre of the action. While the production was not wholly unsuccessful in achieving this goal, there were also a few moments where anyone not already familiar with the story might have found themselves wondering what exactly was going on.

The action took place largely within the confines of a revolving stage, surrounded by a large buttressed wall which could be rolled back and forth and, thus, doubled as a stage curtain. During the overture, the wall was pushed away by a tall old man with a white beard – perhaps meant to symbolise the prophet Jeremiah whose quotations stood as epigraphs for each of the acts – who then went on a tour of the stage, which featured a large wooden box and an equally large industrial silo fading in and out of view through a tremendous amount of stage fog. When the buttressed wall opened again on the first scene, a group of black-clad men with prayer shawls and women in demure grey dresses were worshiping at the giant wooden box, which eventually rose to reveal a giant printing press.
Verdi's Nabucco. Keith Warner, director. Andrea Battistoni, conductor. Premiered at the Deutsche Oper Berlin on 8. September, 2013
© Bernd Uhlig, 2013
It seemed clear where things were going: the Hebrews of the first temple era had been replaced by a late nineteenth-century European Jewish community, and the temple had become an organ of mass communication. The idea of setting the opera during a radically different period of religious and cultural persecution – presumably the community was being attacked as much for its control of print media as for its beliefs – made for an intriguing starting point; but, alas, it also proved to be somewhat misleading. When the Babylonian soldiers finally arrived, they were carrying some manner of anachronistic tridents, while Nabucco himself wore a black and gold two-tone suit jacket and delivered half of his first scene wearing a brazen Assyrian mask. Miscellaneous appropriation and recombination had struck again.
Despite the lack of a unified setting, there were nonetheless some striking images and memorable scenes. The division of the stage by an extendable metal fence during Nabucco's flash of monomania at the end of Act II proved surprisingly effective; and the scene in Act IV in which the Hebrews prepare themselves for death was rendered especially sinister by the sudden appearance of nooses dropping like airplane emergency masks above the heads of the future martyrs. The exclusion of Abigaille at the very end was, likewise, handled in an inventive manner.
Verdi's Nabucco. Keith Warner, director. Andrea Battistoni, conductor. Premiered at the Deutsche Oper Berlin on 8. September, 2013
© Bernd Uhlig, 2013
If this accumulation of well-executed details never quite added up to a convincing dramatic whole, part of the problem may well have rested with the source material itself. The story of Nabucco was not, in retrospect, ideally suited to the operatic conventions of the 1840s, and the process of trying to fit a human scale narrative into the structure of a biblical epic seems to have resulted in an opera with no immediately apparent dramatic centre. The love triangle between Ismaele, Abigaille and Fenena – which would, in a different guise, receive a more elaborate treatment in Aida – seems devised solely to fulfil the 'love story' obligation, and goes largely ignored after the first act. Similarly, the opera seems unable to decide whether it wants to focus more on the conversion of Nabucco or the downfall of Abigaille, and fails to provide credible character development for either.

Of course the great skill of Verdi was to take dramatically implausible material and render it sublime through the alchemical addition of music; thus, the narrative of Nabucco is ultimately subordinate to its individual arias, duets and choruses. A production will succeed or fail not on the strength of its sets, costumes and scenography, but on its musical performances; and on this evening, there were three that could be described as outstanding.
Anna Smirnova (Abigaille) and Yosep Kang (Ismaele) in Verdi's Nabucco. Keith Warner, director. Andrea Battistoni, conductor. Premiered at the Deutsche Oper Berlin on 8. September, 2013
© Bernd Uhlig, 2013
In the demanding role of Abigaille, Anna Smirnova was a force of nature, not merely in her powerful and expressive flights of sopranistic fury, but also in her thoroughly unchained embodiment of the character. Her interruption of the duet between Ismaele and Fenena in Act I was genuinely thrilling and led to a trio – with Jana Kurucová and Yosep Kang, both in fine voice – that was one of the early high-points of the evening. Frau Smirnova was, in all her scenes, the most musically and dramatically compelling figure on stage; her vocal performance never lacked intensity, and if her dynamic transitions occasionally seemed somewhat abrupt, she more than made up for it with the gleeful malevolence and dominating stature she brought to the role.

Zaccaria the high priest received a similarly commanding and charismatic performance from Vitalij Kowaljow, who was able to rally the Hebrews to the defence of their temple but also meditate with elegance and authority on the laws of the holy tablets in his aria from Act II. The third great performance of the evening came – as one might reasonably expect – from the chorus of the Deutsche Oper. While their 'Va pensiero' was an undisputable audience-pleasing highlight, they rarely failed to elevate any scene in which they were present; indeed, they made a most persuasive case that it is in fact the Hebrew people – and not Abigaille or Nabucco – who are the true dramatic centre of the opera.

Nabucco remains, perhaps, an early work by a composer still coming to terms with his craft and talents; but the fact that it still makes for an enjoyable evening at the opera in the year of the composer's bicentenary year suggests that Verdi was onto something from the beginning. While the Deutsche Oper's new production was certainly entertaining on its own terms, it also offered a welcome context for the operas soon to follow; in the weeks and months ahead, anyone within reasonable distance of Bismarckstraße will have the chance to rediscover precisely what great heights Verdi would reach.