The Devil's Advocate
martes, 31 de diciembre de 2013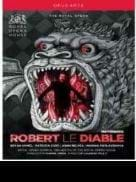 0,0003488
Why do we stage operatic works from the past? The most immediate answer might be because they continue to generate new meanings for modern audiences, who bring their own 'horizon of expectations' to bear upon the operas of yesterday. Rather than being a repository of fixed, timeless meaning, an operatic work embraces a variety of interpretations which reflect the changing relationship between object and observer. A different answer could be out of sheer historical curiosity: to discover why certain pieces exerted such fascination for previous audiences and to reflect, in a self-conscious fashion, upon how popular tastes and expectations have changed over time. We might wonder, however, whether these two positions can be reconciled and if we can honour the different tastes of a bygone era yet still entertain and engage the paying consumers of today. Even if we choose to settle for an homage to the past, though, how can we do so without being restricted by the material resources of the present – and overcome our own horizon of expectations which has elicited our curiosity in a particular fragment of the past?

All of these questions come to mind when watching the recent film of Robert le Diable from the Royal Opera House. Recorded at live performances in December 2012, it marks the first time Meyerbeer's grand opera has been revived there in over a century but amazingly represents the 65th presentation since 1840. Laurent Pelly's technicolor production received generally poor reviews at the premiere but it embodies a number of conundrums which hang around the whole enterprise: whether to entertain or to educate; whether to update or to aim for historical accuracy; and whether Meyerbeer is still viable spectacle in the 21st century. Pelly has achieved particular success as a director of comic works and in his staging of Donizetti's La Fille du Régiment he managed to revitalise potentially staid opéra-comique conventions through satire - thus acknowledging their lack of meaning for a modern audience whilst generating comedy through exaggeration. In Robert le Diable he enters more difficult territory, because despite its original intention for the opéra-comique, it has come down to future generations as the ultimate grand-opera, whose stage innovations and tragic grandeur moved audiences at the premiere to paroxysms of emotion. Meyerbeer's decline in popularity may stem partially from an anti-Semitic slur campaign, but it also reflects a suspicion towards overt vocal display and a scepticism about the power of Meyerbeer's once overwhelming effects to impress. Wagner quipped that these were effects without causes: but gas lighting and trap doors have long failed to surprise audiences and few top-class singers are prepared to commit months mastering a technically challenging role which they are unlikely to repeat. How can a modern production recreate that sense of wonder, and should it even try? What opera house today could afford the lavish budgets or endless rehearsal time that characterised Paris in the 1830s?

Pelly's staging is caught between parody and a sincere attempt to refresh Robert le Diable's drama for the postmodern generation. Significantly cut, the production plays the opera's musical highlight - Isabelle's Act Four aria - relatively straight, but elsewhere the mise-en-scene displays a lack of conviction in basic elements of the genre. Choreographed choral movements accompany lilting music in Act Two, adding a note of irony to Isabelle's innocent expression of excitement. The day-glo colour scheme and model castle remind us that the librettist's vision of medieval Sicily is a gothic fantasy, but it replaces dark corridors and ominous doorways with a light-filled parade that defuses any sense of horror. The famous ballet is presented conservatively in a classical manner and falls flat: neither ghostly nor erotic but merely dull, and therefore serves to vindicate the director's more outlandish touches elsewhere. The most startling directorial decision is the arrival of Alice on a chariot for the final trio, in which she competes with Bertram for her brother's eternal soul. Pelly's comic battle is an atheist's vision, painting cosmic justice as a childish delusion which should elicit laughter rather than pity and fear. Bertram's exit across stage holding a suitcase reminds us that such battles will continue to be played out, but it also encourages the audience to observe the marriage of Isabelle and Robert with wry detachment. Their triumph is an illusion and their beliefs are naive hopes which we, the spectators, have long outgrown.

Pelly's production therefore offers a conflicted viewpoint on Robert le Diable - sympathising with its lyric passions but ironising large chunks of the opera to render them palatable to a cynical audience. Those who find it disappointing may prefer the Paris opera film from the 1980s, which provides a more traditional but less fluent staging that takes the work at face value. The earlier production (currently unavailable on DVD) also benefits from a cast who evoke the legendary names of the premiere: Rockwell Blake, June Anderson and Samuel Ramey. The Royal Opera House team provide generally solid, sometimes impressive but rarely spectacular singing which oddly confirms Pelly's interpretation of Robert le Diable as a relic from the past, incapable of thrilling audiences as it once did. The backstage drama which preceded these performances - with the casting of three of the principal roles under question at various points - also highlights the problems managements have in finding competent and enthusiastic exponents of this challenging music.
The most experienced Meyerbeer singer is Patrizia Ciofi, who was brought in after the dress rehearsal to replace the scheduled soprano, but who is almost entirely comfortable with the idiom and the production. Her limpid, somewhat pale voice flits through the coloratura elegantly and her deep musicality shines through in her long scenes. Some scratchiness at the extreme top and weakness at the lower end suggest both imperfect health and that Isabelle's dramatic outbursts are at her vocal limits. As Robert, Bryan Hymel reveals once again a tireless tenor especially confident in the top range and to whose nasal, buzzing timbre one soon becomes habituated. Marina Poplavskaya gives one of her strangest performances, powerful in the middle, strained and out-of-tune at the top and she looks awkward throughout. She had pulled out of the production during rehearsals citing health problems and then returned two weeks later, apparently now capable of performing, but one wonders whether she was truly at home with the production's comic tone. The famous unaccompanied trio in Act Three is frankly bizarre and frequently unstable in pitch.

John Reylea and Jean-François Borras offer stylish performances in a more traditional mould: Reylea smooth in emission and even in range, and descending into the vocal depths with confidence if not bone-chilling terror. Borras offers vividly articulated narration in his famous opening ballad: The score's cuts make the role of Raimbaut relatively unimportant but his contribution is enjoyable. Daniel Oren's conducting is alert but not tense, and his efforts are compromised by the simplified orchestration presented at these performances. These compromises reinforce the sense that Robert as imagined by Meyerbeer is no longer viable, but that a modern rehabilitation is still very much a work in progress.

Anybody who approaches this recording hoping for a classic production will be disappointed: Pelly's priority is to amuse and he cheerfully embraces parody as a means to achieve that goal. For many viewers this may represent a frustrating failure to realise the composer's intentions, but it vividly illustrates the pressures attached to reviving a work whose popular standing has dramatically fallen. In Pelly's hands, Robert le Diable is a consistently watchable entertainment which gently satirises grand opera and it offers one credible way of responding to its problematic status - not defending it but instead recreating it for a more sceptical audience. It may bear little resemblance to the show that entranced Meyerbeer's audience at its premiere; but as Pelly implicitly asks, would we really want it to?