The Guilt Trip
miércoles, 28 de junio de 2017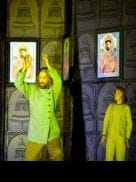 Berlin, sábado, 17 de junio de 2017.
Deutsche Oper Berlin. Mussorgsky: Boris Godunov. Richard Jones, director. Miriam Buether, set. Cast: Ain Anger (Boris), Philipp Ammer (Fyodor), Alexandra Hutton (Xenia), Ronnita Miller (Nurse), Burkhard Ulrich (Shuisky), Dong-Hwan Lee (Shchelkalov), Ante Jerkunica (Pimen), Robert Watson (Grigory), Alexei Botnarciuc (Vaarlam), Annika Schlicht (Innkeeper), Jörg Schörner (Misail), Matthew Newlin (Holy Fool), Andrew Harris (Nikitich), Andrew Dickinson (Boyar), Stephen Bronk (Mityukha) and Samuel Dale Johnson (Border Patrol). Chorus and Orchestra of the Deutsche Oper. Kirill Karabits, conductor
0,0003549
Mussorgsky started many operas, but Boris Godunov was the only one he managed to finish; and while Boris was even performed – not unsuccessfully – in Mussorgsky's lifetime, its place in the standard repertoire of the twentieth century owes a great deal to the editorial intervention of Rimsky-Korsakov, who believed so firmly in the opera's raw power that he revised and reorchestrated it twice to make it more acceptable to the audiences of his time.
In recent years the desire for authenticity has led to a re-evaluation of Mussorgsky's own versions of the opera, not merely the one first performed in 1874, but also the earlier version submitted for performance in 1869 and rejected due to the lack of a substantial female role. The new production of Boris Godunov at the Deutsche Oper – a co-production with Covent Garden which opened there in March of 2016 – offered a rare and not unwelcome opportunity to experience the opera as Mussorgsky initially envisaged it. While this early version was consistently fascinating for its insights into the evolution of a masterpiece, the presence of two extraordinary basses – Ante Jerkunica as Pimen, and Ain Anger in the title role – made for an evening that was musically thrilling on its own terms.
Even if we ignore (for a moment) the thick layer of polish added by Rimsky-Korsakov, the 1869 Boris is structurally different from the more familiar version of 1874. The individual scenes – apart from those involving Marina Mnishek – are mostly accounted for, but they have yet to be fashioned into anything greater. Indeed, the kaleidoscopic quality that contributes so greatly to the dramatic structure of the longer 1874 version comes across as fragmentary and underdeveloped in the more streamlined narrative of 1869. In many ways, the 1869 Boris confirms the suspicions raised by Komische Oper's recent production of Sorochyntsi Fair that, despite Mussorgsky's undeniable ability to place memorable music in the service of compelling action, he was not perhaps the most natural dramatist.
Mussorgsky: Boris Godunov. Kirill Karabits, conductor. Richard Jones, director. Deutsche Oper Berlin, June 2017 © Bernd Uhlig, 2017
The odd dramatic shape was, to some extent, intensified by the understated and occasionally disinterested staging of Richard Jones. Although the production was visually attractive – the set (by Miriam Buether), with its repeating bell motif and its large arched space hovering above the stage, suggested a Russian orthodox milieu without being a slavish copy – there were too many scenes that offered little insight beyond basic stage direction. The fourth scene, in which Grigory evades arrest by the border patrol, offered dynamism and tension, and the stylised deliberation of the boyards walking back and forth in formation during the final scene was at least visually diverting; but the central scene of Boris musing on the state of Russia seemed overly content to coast on the charisma of the title character.
The production also seemed curiously unengaged with the possible ambiguities that can be used to bring greater depth to the story; it accepted the role of Boris in the death of Dmitri as a given, going so far as to replay the killing itself in the arched space above the stage no fewer than five times. Yet the more intriguing tragedy that emerges from the 1869 Boris – a tragedy which the production largely ignored – is not that of a bad ruler tormented by guilt for a past crime, but of a good ruler who runs afoul of public opinion and superstition to the point where he begins to doubt his own leadership.
Mussorgsky: Boris Godunov. Kirill Karabits, conductor. Richard Jones, director. Deutsche Oper Berlin, June 2017 © Bernd Uhlig, 2017
The evening featured numerous fine performances among the reasonably large cast: Alexandra Hutton leavened the male-heavy mood in her brief but delightful appearance as Xenia; Annika Schlicht was a firm, justifiably suspicious innkeeper; as Vaarlam, Alexei Botnarciuc delivered a rousing tale of the siege of Kazan, although he was not helped by the spoon-playing accompaniment of his travelling companion; Robert Watson was able to shade Grigory's ambitions with an underlying sense of youthful inexperience; Matthew Newlin's engaging Holy Fool was remarkably canny in his dealings with the embattled Boris; and Burkhard Ulrich's endlessly malleable tenor conveyed a pleasingly unresolved ambiguity of motives in Prince Shuisky.
Yet the evening was very much defined by opera's two opposing bass roles. As Pimen, the chronicle-writing monk with some first hand knowledge of Dmitri's death, Ante Jerkunica made a strong impression from his first line and, in the course of a single scene, built his performance into a cornerstone of the evening. His voice with its great depth and disarming lucidity suggested vast reserves of wisdom and authority, into which age and infirmity had only just begun to encroach; he himself seemed to forget that he was old as he launched into a vigorous and wholly captivating narration of the murder of Dmitri. Yet it was his ability to assume the beatific demeanour of a holy man that allowed him, in the final scene, to deliver such a coldly effective coup de grâce to the already precarious Boris.
If Mr Jerkunica's bass resembled imposing blocks of chiselled granite, the Boris of Ain Anger was no less commanding for its majestic fluidity. His exceptional monologue in the fifth scene was notable less for its anxiety than its calm intelligence and hints of resignation: in his gentle phrasing, punctuated by moments of rising doubt, one could discern a tsar who was only beginning to understand that his own life was subject to forces beyond his control. In the equally impressive final scene Mr Anger managed to avoid the obvious pitfalls of vocal overacting, instead summoning nobility and clarity for Boris' final address to his son.
Mussorgsky: Boris Godunov. Kirill Karabits, conductor. Richard Jones, director. Deutsche Oper Berlin, June 2017 © Bernd Uhlig, 2017
Since the late 1980s, recordings and performances of Boris in Mussorgsky's own orchestration have become far more common; and while Rimsky-Korsakov added a considerable amount of pomp and gloss that is no longer deemed strictly necessary, the textural clarity and sonic separation of his version do tend to throw the more difficult moments of the original into sharp relief. Kirill Karabits guided the orchestra of the Deutsche Oper through an energetic, frequently exciting performance, but was unable to avoid a handful of moments in which the music seemed to erupt as an undifferentiated mass, sometimes to the detriment of the singers. Yet Mr Karabits made a strong argument for Mussorgsky's less-lavish orchestration in the opera's smaller scale moments – perhaps most notably the scene in Pimen's cell – which benefitted from a greater sense of immediacy and intensity.
The professed belief of Rimsky-Korsakov that his own emendations could be discarded once audiences understood the value of Boris Godunov has largely come to pass; Mussorgsky's final version has, in recent years, become the standard text. In treating the 1869 Boris not as a curiosity or a rough draft, but as a distinct work in its own right, the Deutsche Oper's new production has both enriched and further complicated our appreciation of an already fascinating opera. For all that one may enjoy the grand sweep of the longer version, the directness of the 1869 Boris is not without its attractions; whether or not it will eclipse the more celebrated later version remains to be seen.