Organised Crimes in Dangerous Times
martes, 6 de febrero de 2018
Berlín, sábado, 20 de enero de 2018.
Deutsche Oper Berlin. Bizet: Carmen. Ole Anders Tandberg, director. Clémentine Margaine (Carmen). Charles Castronovo (Don José). Heidi Stober (Micaëla). Markus Bruck (Escamillo). Nicole Haslett (Frasquita). Jana Kurucová (Mercédès). Tobias Kehrer (Zuniga). Philipp Jekal (Moralès). Ya-Chung Huang (Remendado). Dean Murphy (Dancairo). Chorus and Orchestra of the Deutsche Oper Berlin. Ivan Repušić, conductor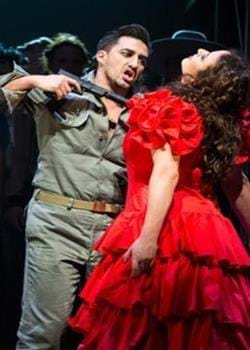 Carmen by Tandberg
© Marcus Lieberenz, 2018
If you happen to be squeamish, you may wish to avoid the Deutsche Oper's new production of Carmen. Ole Anders Tandberg's staging, set in the demi-demi-monde of human organ trafficking, often seemed to have no qualms about crossing the line from merely grotesque to outright gratuitous, and on opening night the director and his team were greeted with unsurprising levels of audience hostility. Yet the production's ample visual imagination and its assured handling of characters made for a consistently engaging, darkly exuberant drama that often succeeded despite its confrontational frame. Those who remained unconvinced, troubled, or just faintly nauseated by Mr Tandberg's conception could at least take consolation in the elegant, often majestic performances of the lead roles from Clémentine Margaine and Charles Castronovo.
Mr Tandberg's last production for the Deutsche Oper, a fish-fixated take on Lady Macbeth of Mtsensk, demonstrated a knack for quirky imagery and uncomfortable brutality, often so close as to be inseparable. His Carmen followed a similar approach, although it seemed less interested in moving the action too far outside its traditional milieu. The soldiers may have carried machine guns, and the factory workers were now tasked with sharpening knives instead of rolling cigarettes, but Carmen still wore her red dress, Escamillo was still a bull-fighter, and the story was set in a world that would not seem wholly foreign to anyone familiar with the plot. It was far from traditional, yet the best moments found a middle path between slavishness and irony, and the staging, as a whole, emerged as an extended (if occasionally somewhat aimless) riff, not merely on the obvious themes of Carmen but on the essence of its archetypes. [Video]
Jana Kurucová as Mercédès, Clémentine Margaine as Carmen, Nicole Haslett as Frasquita in Bizet: Carmen. Ole Anders Tandberg, director. Ivan Repušić, conductor. Berlin, Deutsche Oper, January 2018. © Marcus Lieberenz, 2018
Inventive visual flourishes were never in short supply. The steam that began to rise from the floor when Carmen directed her charms at Zuniga was worthy of Frank Tashlin, and the opening of the second act, in which Carmen shook the train of her ruffled dress to reveal two identically-dressed Carmen lookalikes, was delightfully sinister, as though Carmen had cloned herself to unleash confusion upon the world with greater efficiency. But Mr Tandberg rarely stopped at subtle and, in the course of the same act, we were treated to the sight of Escamillo castrating a dead bull and presenting the sack as a gift to Carmen – who later disposed of it by dropping it discreetly into the orchestra pit – while Zuniga met a similarly grisly fate. The third act was even more gruesome, with the two Carmen-alikes reading their fortunes at a large table filled with rubbery harvested organs. Such scenes might have been more overtly confrontational had they not been so darkly amusing; in each case, they were played with a mischievous irreverence that was almost sufficient to offset the ickiness.
Given the lightly updated setting, the decision to turn the smugglers into criminals specialising in human organs made some degree of sense, but it also led to several moments that came across as little more than visual distractions designed to mask a lack of interest in the story's human tragedy. Mr Tandberg's conception of the title character was, nonetheless, a source of constant fascination. The martyr Micaëla, the showboat Escamillo, and Don José, the man who brings about his own ruin by succumbing to passion, all adhered closely to the rules of their type and pursued their own logic to destruction; Carmen, however, remained compellingly elusive – to those in the story and those in the audience – and Mr Tandberg's ability to get through the opera without explaining or justifying her actions was one of the production's most subtle triumphs.
Bizet: Carmen. Ole Anders Tandberg, director. Ivan Repušić, conductor. Berlin, Deutsche Oper, January 2018. © Markus Lieberenz, 2018.
Mr Tandberg's reading of Carmen –or perhaps his unwillingness to commit to a reading – was inseparable from the performance of Clémentine Margaine, who suggested a character guided more by intelligence than passion, and whose changes of heart and mind seemed neither capricious nor calculating. Her approach to the role was so subtle that it would have been easy to mistake her apparent dispassion for a kind of indifference; but at her best, she was able to convey the idea that the persona of Carmen was nothing more than a reflective construction of preconceptions and received ideas without a fixed centre.
This approach carried over to Ms Margaine's vocal performance, which seemed intent on downplaying the work's more obvious strands of exoticism in favour of something closer to psychological realism. The famous Habanera was delivered with great rhythmic insistence, but at a pace that kept it distant from its ostensibly fiery temperament; what emerged sounded more like a lecture on the nature of love than a piece of self-advertisement. Although the first two acts offered ample demonstration of Ms Margaine's capacity for hearty high notes, lustrous lower passages and nuanced phrasing, her performance gathered in intensity during the second half, building from a captivating premonition of her own death to her final, triumphant refusal of Don José.
In an evening that seemed determined to find new possibilities for a much-staged work, Charles Castronovo's Don José ensured that there were operatic thrills of a more conventional nature. His voice was close to ideal for the role: the assured 'Le fleur que tu m'avais jetée', an obvious highlight of the second act, was a sustained offering of long, elegant line, clearly wrought emotion, and top notes that found their way to the back of the room without sounding strained or over-projected. His increasing desperation in the final scene was a perfect complement to Ms Margaine's unshakable resolve.
Bizet: Carmen. Ole Anders Tandberg, director. Ivan Repušić, conductor. Berlin, Deutsche Oper, January 2018. © Markus Lieberenz, 2018.
Heidi Stober sang Micaëla with appealing clarity and considerable beauty. Her scene in the first act, bringing tidings from home to Don José, was delicate and sweet, its lightness of spirit coloured with only a touch of longing; by the time of her wonderful 'Je dis que rien ne m'épouvante' the sweetness had largely vanished, revealing an anxiety and foreboding that expressed itself in crisp phrasing and crystalline swells. As Escamillo, Marcus Bruck delivered an almost surprisingly understated reading of the opera's most famous tune, as though searching for something more substantial beneath its glossy surface; he was, however, convincingly haughty and dismissive in his third act confrontation with Don José. Tobias Kehrer brought style and energy to the brief appearances of Zuniga, Nicole Haslett and Jana Kurucová as Frasquita and Mercédès, the two Carmen-alikes, were gleeful troublemakers, and there was much fine work from the choir throughout the evening.
There was little to fault in Ivan Repušić's musical direction, which remained dynamic and precise throughout the evening; the brief overture, with its dramatic cymbal crashes, charged forth at a vigorous pace that left little room for nuance, and the opening chorus of the fourth act had moments of volatility, but the rest of the performance was impeccably judged, working largely in the service of the singers without short-changing the dramatic effects in Bizet's score. Mr Repušić seemed to have fewer reservations about embracing the exotic orchestral flourishes but he was at his best when building patiently to the work's climactic moments, the confrontation of the principals at the end of the third act, or the tense final scene of the fourth. The orchestra, clearly on familiar territory, played with great confidence and charm.
Mr Tandberg's production will certainly not be to all tastes. Although its violence was mostly implied, and frequently rendered cartoonish through its energetic direction, there were enough unsettling moments to put off anyone hoping for the simpler pleasures of a doomed love story. Yet beneath its provocative, often grotesque veneer, the Deutsche Oper's new Carmen remained both a faithful telling of the story and an intelligent (if perhaps inconclusive) enquiry into the factors that make the story so enduring.