The Tragic Flute
viernes, 8 de marzo de 2019
Berlin, jueves, 21 de febrero de 2019.
Staatsoper Unter den Linden. Mozart: Die Zauberflöte. Yuval Sharon, director. Kwangchul Youn (Sarastro), Julian Prégardien (Tamino), Serena Sáenz Molinero (Pamina), Florian Teichtmeister (Papageno), Sarah Aristidou (Papagena), Tuuli Takala (Queen of the Night), Lauri Vasar (Sprecher), Florian Hoffmann (Monostatos), Adriane Queiroz (First Lady), Cristina Damian (Second Lady), Anja Schlosser (Third Lady). Staatskapelle Berlin. Alondra de la Parra, conductor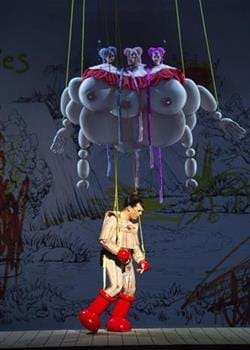 Sharon: Die Zauberflöte
© Monika Rittershaus, 2019
Baudelaire's proposition that artistic genius is merely the employment of mature technique to conjure the innocence and wonder of childhood has a lot to answer for. While it may have yielded the occasional masterpiece in the past century and a half, it is responsible for countless lapses in judgement, the most recent of which is Yuval Sharon's new production of Die Zauberflöte for the Staatsoper, a staging so aggressively dull and so misguidedly assured of its own brilliance that it managed to turn Mozart's least demanding opera into a chore. Even the music couldn't help. A handful of decent voices were squandered in an overly mannered, often un-theatrical dash through the score, resulting in that rarest of things: a Mozart evening with remarkably few redeeming qualities.
When the Staatsoper announced their new production last year, it came with the cautious reassurance that, no, August Everding's much-loved seat-filler would not be retired. Mr Everding's staging, a reconstruction of the famous 1816 production with backdrops by Karl Friedrich Schinkel, may have been slavishly old-fashioned when it first appeared some twenty-five years ago, but at least it captured some of the broad comedy and stage magic that makes Die Zauberflöte so perennially enchanting. It is, for its flaws, an excellent introduction to the pleasures of opera. By adding a second production to their roster, the Staatsoper had the opportunity to pair Mr Everding's crowd-pleasing traditionalism with something darker, stranger, more abstract, and more challenging. Instead they ended up with Mr Sharon's production, which achieved the unique feat of contributing nothing to the opera whatsoever.
Die Zauberflöte can, of course, be many things: it can be a high-end pantomime or a first-class fairy tale, an illustration of the battle between light and darkness or a parable of self-realisation; but it doesn't need to stop there, and one suspects that most modestly talented twenty-first century directors could have mined the libretto for an interesting new take. Mr Sharon somehow managed to find nothing; and it wasn't merely nothing, but nothing on an offensively large scale, with ropes and pulleys and video-projections and pop-culture references, all deployed in the service of a staging with no discernable point of view beyond its disastrously facile central concept.
Mozart: Die Zauberflöte. Yuval Sharon, director. Alondra de la Parra, conductor. Berlin, Staatsoper Unter den Linden, February 2019. © Monika Rittershaus, 2019.
That concept, such as it was, imagined the opera as a marionette production mounted by a group of excitable children, flush with the newly-discovered possibilities of theatre; what we the audience saw was a life-sized version of that production, with the singers as marionettes, attached by wires to unseen hands. The dialogue was spoken not by the singers, but by the (pre-recorded) offstage voices of children, who delivered their lines with varying degrees of put-on solemnity; their line-readings were perhaps the most conspicuously 'directed' element of the evening, and it was so cloying it made one want to barf. Nor did the sentimentality stop there: the sets and costumes were designed to evoke the things that children might assemble for their own ad hoc puppet show. The backdrop of the first scene was a paint-by-numbers drawing with large scrawls of crayon; Monostatos was a shiny black wind-up robot; Tamino, for no apparent reason, was a marionette version of Astro Boy.
The problem with arcane pop-cultural references is that their charm evaporates the moment we become hip to them. It was amusing, when the curtain went up, to see that Tamino had been done up as Astro Boy, but considerably less amusing thirty seconds later when we realised that he was going to remain dressed as Astro Boy for the next three hours. The same principle applied to the elaborate offstage rope machinery that drove so much of the action: it can be exhilarating to see a person fly on stage, but the novelty wears off quickly. When the characters were still doing the same floating routine in the second act, one began to sympathise with the people in nearby seats who had started glancing anxiously at their watches and phones.
Mozart: Die Zauberflöte. Yuval Sharon, director. Alondra de la Parra, conductor. Berlin, Staatsoper Unter den Linden, February 2019. © Monika Rittershaus, 2019.
Yet Mr Sharon seemed so convinced that his combination of knowing references, saccharine childishness, and rope-bound special effects would win over the audience that he simply forgot to do anything else with the story; so much energy was poured into fulfilling the technical requirements of the concept, that there was no investment in character or plot. Mr Sharon's attempts to evoke the exuberance of childhood were entirely superficial; the themes that might actually make the opera appealing to children went completely ignored. When Mr Sharon used the final chorus for the big reveal of his concept – presumably for the benefit of the two people left in the audience who hadn't yet figured it out – it concluded a dismal evening by casually insulting the intelligence of everyone in the theatre.
One spent most of the evening feeling sorry for the singers, who were expected to deliver some of Mozart's best-loved numbers suspended by cables above the stage. Perhaps the greatest obstacles were overcome by Julian Prégardien, whose lyrical phrasing mostly transcended the dual indignities of being dressed as Astro Boy and being yanked around the stage by an uncaring, unseen hand. 'Dies Bildnis', for which he was allowed to stand on his own feet, emerged with lovely tone and phrasing, even if the orchestra never quite gave him the breathing space to craft the glowingly ardent performance of which he sounded more than capable. Florian Teichtmeister followed the Schikaneder tradition of playing Papageno as a comedic actor forced to sing; while his performance was only passingly musical, he bit into his lines with solid pantomime gusto. 'Mädchen oder Weibchen' was an especial delight, yielding deepening gradations of despair with each new verse.
Serena Sáenz Molinero's tone did not always seem ideally suited to Pamina, but she sang with such spirit and intelligence that her scenes were often the most enchanting of the evening. She transformed 'Bei Männern' into a delightful reprieve from the monotony of the production, and her 'Ach, ich fühl's, es ist verschwunden' was a marvel of clarity, humility and longing. Kwangchul Youn's Sarastro had perhaps the easiest time of the production: unencumbered by ropes, he was free to be commanding in the finale of the first act and appealingly priestly in 'O Isis und Osiris'. His 'In diesen Heil'gen Hallen', delivered from the front of the stage in civilian clothes, his Sarastro robes slung over his shoulder, was perhaps the evening's most enjoyable moment.
Mozart: Die Zauberflöte. Yuval Sharon, director. Alondra de la Parra, conductor. Berlin, Staatsoper Unter den Linden, February 2019. © Monika Rittershaus, 2019.
Conductor Alondra de la Parra, who joined the production as a late replacement for Franz Welser-Möst, led the orchestra through a reading with alternating passages of idiosyncrasy and indifference. Her approach, which favoured small, highly sculpted moments at the expense of a longer dramatic sweep, often resulted in scenes that sounded fussy and mannered, but generated little in the way of tension or excitement. Indeed, the greatest tension came from those moments when the orchestra seemed to be dragging the singers forward against their will – it was especially prominent in the finale of the first act – causing unexpected moments of untogetherness.
One suspects that the music will improve in the course of the run, as conductor and singers achieve a greater unity. The staging, however, may be beyond redemption. The greatest flaw in Mr Sharon's vision is that it fetishised the naive amateurism of youthful exuberance far too knowingly; its glib nostalgia was less an evocation of childhood, than the calculating, condescending vision of an adult wielding the signifiers of childhood for no discernable purpose. A puppet-show production conceived and directed by actual children would almost certainly lack technical polish, but it might also have possessed a far greater understanding of what makes Die Zauberflöte so enduringly magical.