Wagner's Cage
martes, 11 de junio de 2019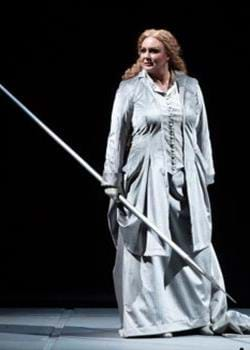 Nápoles, sábado, 11 de mayo de 2019.
Teatro San Carlo. Die Walküre, Richard Wagner. Federico Tiezzi, director. Francesco Torrigiani, revival director. Giulio Paolini, set designer. Giovanna Buzzi, costumes. Maria Antonietta Lucarelli, costumes assistant. Gianni Pollini, lighting. Robert Dean Smith (Siegmund), Liang Li (Hunding), Egils Silins (Wotan), Manuela Uhl (Sieglinde), Irene Theorin (Brünnhilde), Ekaterina Gubanova (Fricka), Raffaela Lintl (Gerhild), Robyn Allegra Parton (Helmvige), Pia-Marie Nilsson (Ortlinde), Ursula Hesse von den Steinen (Waltraute), Alexandra Ionis (Rossweisse), Ivonne Fuchs (Seigrune), Niina Keitel (Grimgerde), Julia Gertseva (Schwertleite). Orchestra of the Teatro San Carlo. Juraj Valčuha, conductor.
0,000291
Die Walküre is a blessing and a curse for the opera director. Here is every familiar Wagnerian cliché, with all the temptation for them to be lavishly reproduced: breast-plated women, supernatural intrigue, complex monologues, long orchestral interludes, and heavy displays of vocal declaration. But as generations of directors and scholars have demonstrated, Der Ring des Nibelungen – and Die Walküre in particular – is also a work crying out for creative reinvention. Whether as a contemporary family drama, an exploration of nineteenth-century capitalism, a study of wounded masculinity, a meditation on environmental catastrophe, or much more, the options are rich indeed. Is it necessary for a director to choose one path to the exclusion of the others? Perhaps not. But exploring several simultaneously inevitably requires a strong narrative hook; something to keep the many threads of interpretation firmly held together.
Federico Tiezzi's concept for his Naples production was a cage. Initially appearing as the backdrop to Sieglinde and Hunding's house, it later became the rocky landscape in which Act Two partly takes place, before turning into Brünnhilde's mountain for the final scene. Around this, Tiezzi wove a number of different interpretations. Act One largely played out as a bourgeois period drama, with Sieglinde and Siegmund's interactions being accompanied by a bevy of (dramatically unnecessary) servants. By Act Two, though, the formal gowns were more obviously supplemented by spears and a bright red costume for Brünnhilde; while abstract projections for Siegmund and Sieglinde's duet – moons and stars – were replaced by hot-red lighting for the final circle of fire.
Die Walküre, Richard Wagner. Juraj Valčuha, conductor. Federico Tiezzi, director. Naples, Teatro San Carlo, May 2019. © Luciano Romano / Teatro di San Carlo, 2019
As an approach, Tiezzi's pick-n'-mix effort wasn't bad. But it suffered from insufficiently developed relationships between the characters, not exploring in depth exactly what motivated Brünnhilde's defiance of Wotan, nor Wotan's changing decisions as the opera progresses. Is Fricka correct to order Siegmund's death? Does Brünnhilde really understand Wotan's intentions? Is Wotan ultimately happy that she defied him? This production offered few answers. Tiezzi's strong visual concept also wasn't quite enough to pull together the relationships in the opera. In the end, the mix of styles wasn't adequately developed to uncover unexpected points of connection, but the production was at least slickly presented – offering a functional and visually appealing frame for the musical activity.
Die Walküre, Richard Wagner. Juraj Valčuha, conductor. Federico Tiezzi, director. Naples, Teatro San Carlo, May 2019. © Luciano Romano / Teatro di San Carlo, 2019
Vocally, however, this was one of the strongest Walküre's one could hope to hear. As Brünnhilde, Irene Theorin lacked the ideal interiority, and her lower register can be weak, but overall she was stunningly secure, able to slim down the sound for the duet with Wotan but also searingly powerful in her outbursts. Alongside her, Egil Silins was a superb Wotan, utterly tireless and resting on a superb legato line. Like Theorin, he is not the most expressive of singers, and the final farewell could have possessed greater poignancy, but in sheerly vocal terms this was a triumph.
Die Walküre, Richard Wagner. Juraj Valčuha, conductor. Federico Tiezzi, director. Naples, Teatro San Carlo, May 2019. © Luciano Romano / Teatro di San Carlo, 2019
The Volsung twins were strongly taken by Robert Dean Smith and Manuel Uhl. Now in his early 60s, Dean Smith was a terrific Siegmund, who can still sing the cries of "Wälse!" without a hint of strain but has all the baritonal warmth and textual detail one could wish for. Uhl tired a bit in the climax of "O herrstes Wunder!" but was otherwise an excellent Sieglinde; bright-toned and almost soubrettish in colour, but with plenty of power and much sensitivity in Act One. Even better was Ekaterina Gubanova, one of the best Frickas I've heard: totally secure, rich-toned, passionate rather than shrewish and with a hint of Eboli-ish glamour to boot. As Hunding, Liang Li was again vocally solid and resisted the temptation to shout in this potentially ungrateful role.
Musically, the icing on the cake was the excellent conducting by the San Carlo's music director Juraj Valčuha. He paced the music superbly, pushing it forward where necessary but also giving the singers time to savour the shifts of mood in their monologues, especially in the second act. One unexpected quirk of the evening, one should note, was the poor quality of the translated surtitles, with some very unidiomatic English texts periodically pulling the viewer out of the drama. With a superb group of Valkyries alongside the principals and orchestra, however, this was a terrific evening of musical theatre; an Ungesamtkunstwerk to remember.